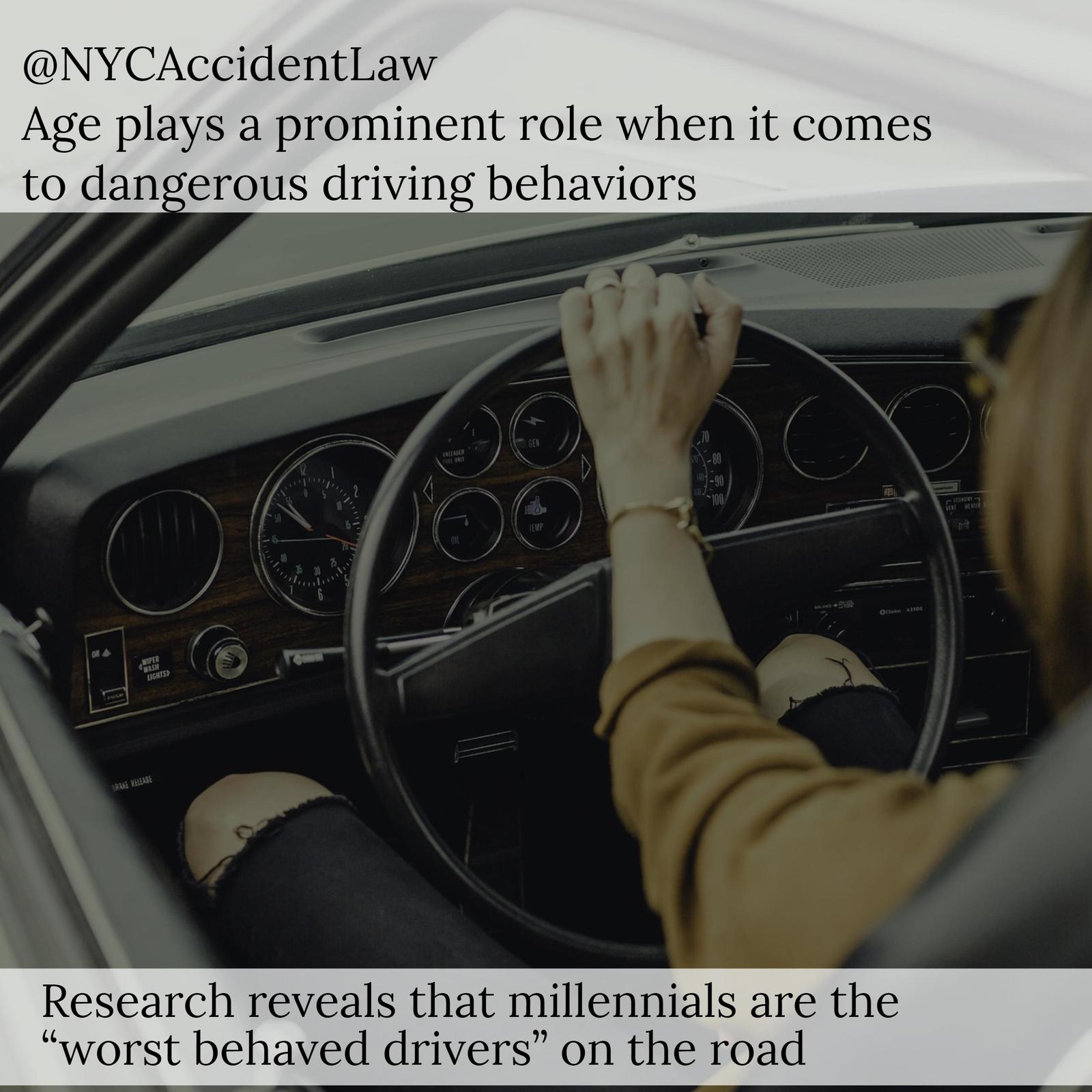 NYC Auto Accident Lawyer Discusses Millennials As The "Worst Behaved Drivers"
When it comes to dangerous driving behaviors age plays a prominent role
These days, stories about millennials are just about everywhere you look. Although the parameters vary, the millennial generation is estimated to include those born between roughly 1982 and 2004. As the largest living generation — now numbering close to 80 million — millennials are powerful consumers who make up the bulk of today's workforce.
According to a recent AAA study, this is problematic, as research reveals that millennials are also the "worst behaved drivers" on the road.
The AAA Foundation for Traffic Safety Report
Released in 2017, the AAA Foundation for Traffic Safety Report states that 88 percent of "young millennials engaged in at least one risky behavior behind the wheel in the past 30 days."  
These risky behaviors included:
Texting and driving
Speeding
Running red lights
The report coincides with data showing that traffic deaths have increased. In 2015, traffic fatalities in the U.S. had jumped seven percent — the largest single-year increase in 50 years.
The researchers behind the study said they were alarmed to discover that some of the drivers between the ages of 19 and 24 "believe that their dangerous driving behavior is acceptable."
When it comes to dangerous driving behaviors, age plays a prominent role. According to the AAA report, the risk posed by a millennial behind the wheel is much higher than the risk posed by an older driver, or even a teen driver.
Percentage of drivers who admitted to engaging in a risky driving behavior within the past 30 days:
Ages 19 to 24: 88.4 percent
Ages 25-39: 79.2 percent
Ages 40-59: 75.2 percent
NYC Auto Accident Lawyer Discusses Injuries Caused by Distracted Drivers  
New York City auto accident lawyer Jonathan C. Reiter states, "Of course, not every driver who falls within the millennial generation is dangerous behind the wheel. The report merely shows that overall statistics reveal a higher level of risky behavior among certain age groups. No matter how old you are, it's important to put your phone down while you drive, and to obey the traffic laws designed to keep everyone safe on the road."  
The AAA report also reveals that drivers between the ages of 19 and 24 were 1.6 times more likely than drivers in other age groups to have read a text message or email while driving. If you have been injured by a distracted driver or a motorist who was engaged in another type of risky driving behavior at the time of the accident, talk to a New York City auto accident lawyer as soon as possible to discuss your case.
Sources:
https://www.theatlantic.com/national/archive/2014/03/here-is-when-each-generation-begins-and-ends-according-to-facts/359589/
Media Contact:
New York City auto accident lawyer Jonathan C. Reiter.
T: 866-324-9211. 
Content Disclaimer: 
The above review statements are those of the sponsor (Source of content) and do not necessarily reflect the official policy, position or views of the content publisher. The content distribution company is therefore not responsible for the content and its authenticity and legal standing of the above subject matter. Each individual is required to exercise its content when making a purchase from the above offer. The information does not constitute advice or an offer to buy. Any purchase made from the above press release is made at your own risk. Editorial merit of this content is subject to news publisher and its downstream partners. Consult an expert advisor/health and professional advisor before any such purchase. Any purchase made from this link is subject to the final terms and conditions of the website's selling as mentioned in the above as source. The content publisher and its downstream distribution partners do not take any responsibility directly or indirectly. If you have any complaints or copyright issues related to this article, kindly contact the company this news is about.  
DISCLAIMER of Liability. IN NO EVENT SHALL OUR PR COMPANY BE LIABLE OR RESPONSIBLE TO YOU OR ANY OTHER PERSON FOR ANY DIRECT, INDIRECT, INCIDENTAL, CONSEQUENTIAL, SPECIAL, OR EXEMPLARY DAMAGES OF ANY KIND, INCLUDING WITHOUT LIMITATION, LOST PROFITS OR LOST OPPORTUNITIES, EVEN IF ADVISED OF THE POSSIBILITY OF SUCH DAMAGES IN ADVANCE AND REGARDLESS OF THE CAUSE OF ACTION UPON WHICH ANY SUCH CLAIM IS BASED, INCLUDING, WITHOUT LIMITATION, ANY CLAIM ARISING OUT OF OR IN CONNECTION WITH ANY OF THE CONTENT, INCLUDING, WITHOUT LIMITATION, AUDIO, PHOTOGRAPHS, AND VIDEOS, OR OF THE ACCURACY, RELIABILITY, OR LEGALITY OF ANY STATEMENT MADE IN OR OMITTED FROM ANY advertisement, sponsorship, endorsement, testimonial, opinion, or other product-related or service-related statement or review appearing in the Websites or in ANY post or article distributed via the Websites.