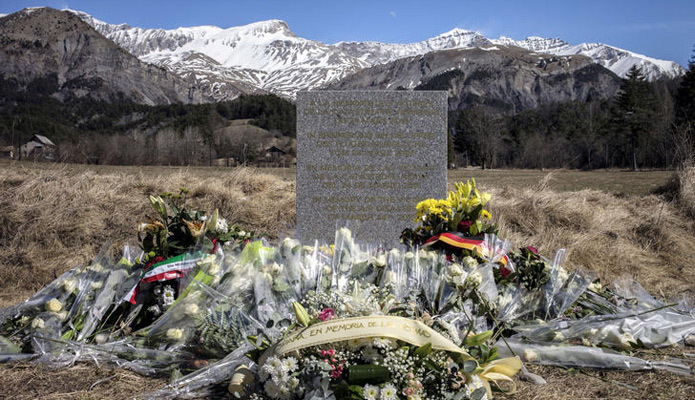 Investigators Issue Safety Recommendation After Germanwings Plane Crash Probe
New York aviation lawyer says French investigators have unveiled new information about the Germanwings plane crash that killed 150 people last year.
French investigators have released a new safety recommendation following a lengthy probe into the circumstances surrounding a Germanwings plane crash. Nearly a year after the crash of Germanwings Flight 9525 on March 24, 2015, which killed 150 people on board, France's BEA air accident investigation agency has said that worldwide, aviation agencies should develop new rules that would require medical workers to issue warnings to authorities when the mental health of a pilot proves to be a threat to public safety. The investigators' determination follows their conclusion that the co-pilot of the flight exhibited mental health issues prior to the flight.
Source: Chicago Tribune Report "Germanwings crash: Co-pilot showed symptoms consistent with 'psychotic episode'"
"Aviation agencies around the world should draw up new rules requiring medical workers to warn authorities when a pilot's mental health could threaten public safety, French investigators recommended Sunday after a yearlong probe into the Germanwings plane crash…The French investigation found that Germanwings co-pilot Andreas Lubitz, who had been treated for depression in the past, had consulted with dozens of doctors in the weeks before he deliberately crashed a jet into the French Alps on March 24, 2015, killing all 150 people on board."
To read more of the Chicago Tribune report visit http://www.chicagotribune.com/news/nationworld/ct-germanwings-crash-report-20160313-story.html.
The Duty of Airlines to Protect Plane Passengers From Pilot Misconduct
Following the Germanwings plane crash last year, CNN profiled five incidents where the intentional misconduct of plane pilots resulted in serious crashes.
Source: CNN Report "Deliberate acts: 5 cases of pilots intentionally crashing"
"According to the Aviation Safety Network, five commercial plane crashes since 1976 are believed to have been the intentional work of the pilot…The most well-known incident may be the 1999 crash of EgyptAir Flight 990. The 767 jet, en route to Cairo from New York City, made a rapid descent -- plunging almost 14,000 feet in 36 seconds -- and crashed off the Massachusetts coast."
To read more visit http://www.cnn.com/2015/03/26/travel/germanwings-crash-death-by-pilot-cases/index.html.
New York aviation attorney Jonathan C. Reiter of the Jonathan C. Reiter Law Firm PLLC, who obtained substantial damage awards for the families of several passengers killed in the EgyptAir Flight 990 crash says that airlines have a responsibility to take necessary measures to ensure the protection of passengers. According to the New York lawyer, "Commercial airlines in the United States and overseas typically do little if anything to monitor the mental health of their pilots, and rely instead upon the pilot's medical certificate or the pilot's self-report of a psychiatric condition that would impair his/her ability to safely pilot the airplane. This system is totally inadequate because the medical examinations are not performed by trained psychiatrists, and pilots are reluctant to self-report mental health issues for fear of being grounded and negatively impacting their careers."
Additionally, the attorneys says "pilots who may be on the way to a psychotic episode may be unaware of how sick they are. For example there is the case of JetBlue Flight 191 on March 27, 2012 in which the pilot had a psychotic episode and went screaming down the aisle of the plane ranting about Al-Quaeda and a bomb being on board. In that case in which the Jonathan C. Reiter Law Firm represented 35 passengers who were psychologically traumatized by the pilot's actions, the airline initially attempted to disclaim responsibility for the pilot's mental breakdown, although ultimately an amicable settlement was reached to give fair compensation to the passengers. The case did however highlight fatal flaws in the system of preventing mentally ill pilots from causing catastrophic aviation accidents."
The comments come after the airline made claims that it was unaware of the pilot's mental health condition, despite records showing he demonstrated having mental health issues in acts exhibited prior. There are various types of airline negligence that could lead to a serious plane crash according to the attorney who has previously said of the issue, "Thousands of fatalities have been linked to airline errors and misconduct over the last decade. Pilot intoxication, fueling aircraft negligence, FAA violations and other maintenance failures are examples of the types of accident causing issues that airlines have been held accountable for in numerous legal cases throughout the U.S."
The Germanwings plane crash is being investigated by The Bureau d'Enquêtes et d'Analyses pour la Sécurité de l'Aviation Civile (BEA), its German counterpart, the Federal Bureau of Aircraft Accidents Investigation (BFU), and the U.S. Federal Bureau of Investigation.
Connect with the Jonathan C. Reiter, PLLC law firm on Facebook, Twitter
Hear the New York aviation attorney's legal perspective on recent plane crash cases via YouTube